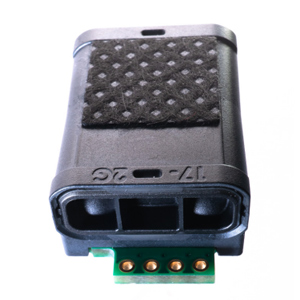 红外冷媒传感器Senseair Sunlight HC-R
文章来源:楚环传感器     发布时间:2023-05-23
产品品牌:

Senseair

产品型号:

Senseair Sunlight HC-R

所属分类:

红外气体传感器
产品介绍
A new generation NDIR sensors with Optical Solid-State design
Electronics with no moving parts makes Senseair Sunlight HC-R robust and resistant to vibrations. Any application with a tough environment or in environments with explosion risk is benefited by the solid-state design. It is also the first NDIR sensor with LED technology that truly saves power while maintaining a high precision.
Senseair Sunlight HC-R is designed for high volume production with full traceability by sensor serial number on all manufacturing processes and key components.
Every sensor is individually calibrated and is provided with UART (Modbus) and I2C interface. With the ABC function activated, the sensor is maintenance- free.
Senseair Sunlight HC-R is a module that is designed for simple integration into products. Senseair Sunlight HC-R can be used in a wide range of refrigerant applications based on R32.
Senseair Sunlight HC-R规格:
Measured gas:R32, R454A, R454B and R454C
Operating principle:Non-dispersive infrared (NDIR)
Operating range -40~70°C, 0~95% RH (non-condensing)
Measurement range:0~50% LFL
Resolution:10ppm (0.007% LFL)
Accuracy [R32]:Standard range: ±2.5% LFL;Extended range: ±5% LFL
Measurement setting:Continuous measurement mode, 2s, 8 samples
Maintenance:Periodic Zero calibration or ABC calibration
Life expectancy:15 years in normal commercial environments
Power supply:3.05~5.50VDC
Storage temperature:-40~85 °C
Dimensions (L×W×H):34×21×12mm, max
Communication interface:UART, I2C
Senseair Sunlight HC-R主要优势:
Complies with IEC 60079-29-1
Complies with sensor element part at IEC and UL 60335-2-40
Miniature size
Fast response time
Maintenance-free
Long term stability
Long lifetime
Immunity to poisoning
Individually calibrated
Very low power consumption
Mass production

更多红外气体传感器产品